About Eyecare Partners
Who We Are
Eyecare Partners is a team of eyecare professionals who provide supplementary ophthalmology services. The clinic is led by Mike Tappin, a Consultant Ophthalmologist and leading cornea specialist. Our ophthalmologists and optometrists work together with the patients' own eyecare professional to provide a comprehensive service that complements any existing treatments and procedures patients are undergoing or have had in the past.
What We Do
We aim to give patients a thorough assessment of their condition and explain clearly and in simple terms the choices and options available.
We provide treatments and therapies for various conditions including dry eye syndrome, blepharitis, and general irritable eyes.
We have a contact lens specialist service for fitting complex contact lenses to irregular corneas and offer a range of lenses for keratoconus and post corneal graft.
Our staff are actively involved in researching and evaluating new procedures and techniques and we remain committed to giving you impartial, honest advice about your condition, its prognosis and the options available to manage it.
Our Technology
We use the latest technology including the Pentacam Corneal Topography system to accurately map the corneal shape to ensure a more accurate and comfortable contact lens fitting.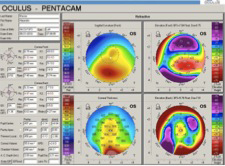 Where We Are
Eyecare Partners is based in the Nuffield Hospital, Guildford.
We offer convenient evening and weekend appointments.